E-signatures are electronic digital signatures that can be used to securely sign documents electronically.
A digital signature is a mathematical way of proving that the person signing a document is the true author of the document.
The most common use for E-signatures is to securely sign contracts and other legal documents.
In order to use E-signatures, you need a computer and an E-signature software program installed on the computer.
You then connect the software program to your computer using a USB or Bluetooth connection.
Once connected, you can start signing contracts or other documents using your mouse or finger to make marks on the screen. This can be very convenient because it means you don't have to carry heavy paper around with you everywhere.
Instead, all you need is your phone or tablet device and an internet connection to sign multiple documents at once.
E-signatures in the age of Covid-19 and Beyond
As a result of the current Covid-19 "stay-at-home/social-distancing" and travel restrictions imposed by most governments around the world, business and legal transactions have resulted in reduced face-to-face interaction.
In light of these developments, the use of electronic signatures (e-signatures) to carry out cross-border transactions that originally required a handwritten or "wet ink" signature has become increasingly important.
Fortunately, many global jurisdictions have established some type of legal framework for e-signatures and are now taking full advantage of this digital capability in the face of Covid-19.
The requirements for legally binding e-signatures vary, however, as some countries follow different models of e-signature laws.
OMC Group E signatures
At OMC, we have adopted third-party digital signature technology that meets the legal requirements of each jurisdiction, thus providing our clients with an adequate layer of identification and security that preserves the integrity of their documents.
Through our e-signature solutions, clients may sign legally binding contracts, execute agreements, open accounts, incorporate companies, register beneficial owners, and authorize director and member resolutions, among many other services, regardless of where in the world they are located.
This allows us to respond to business opportunities and customer needs more efficiently and effectively.
Please contact OMC to learn more about the e-signature options available and the legal requirements in place for specific jurisdictions.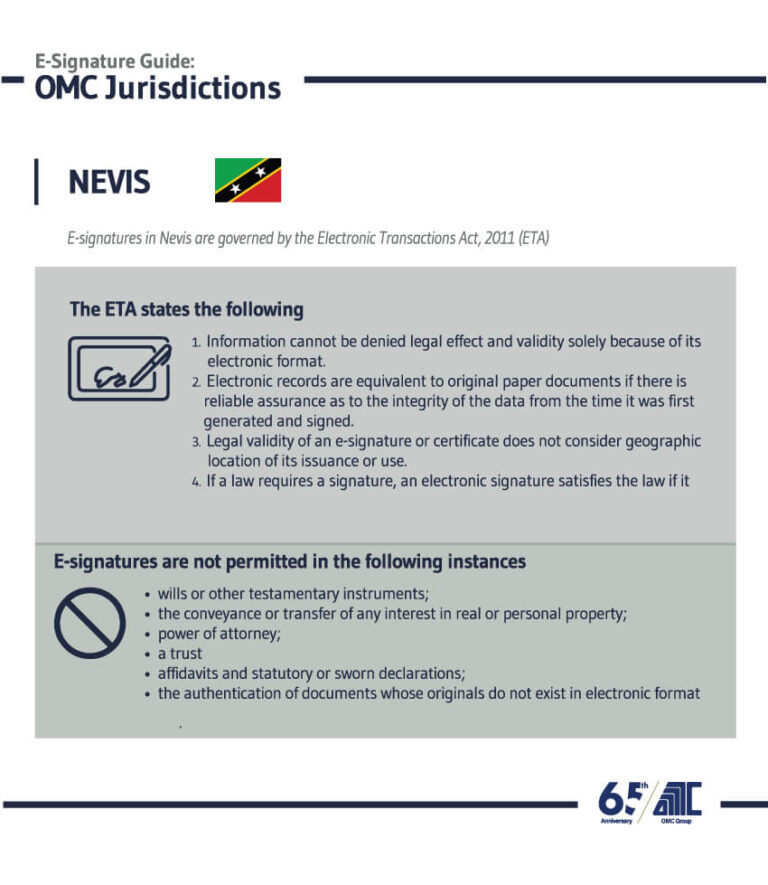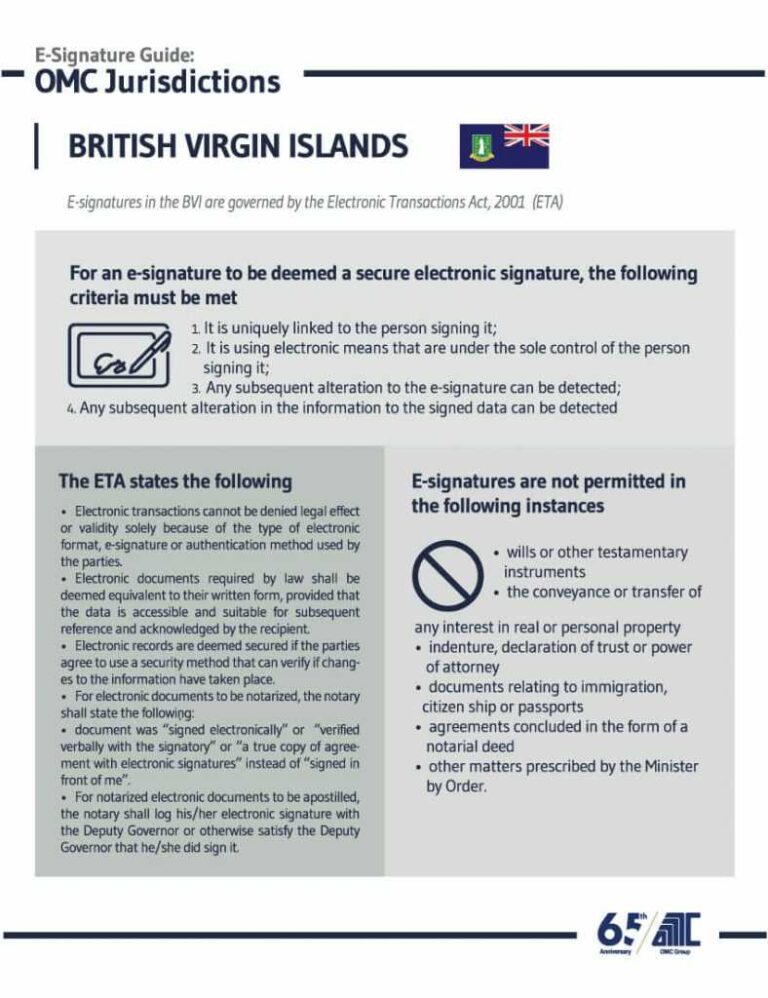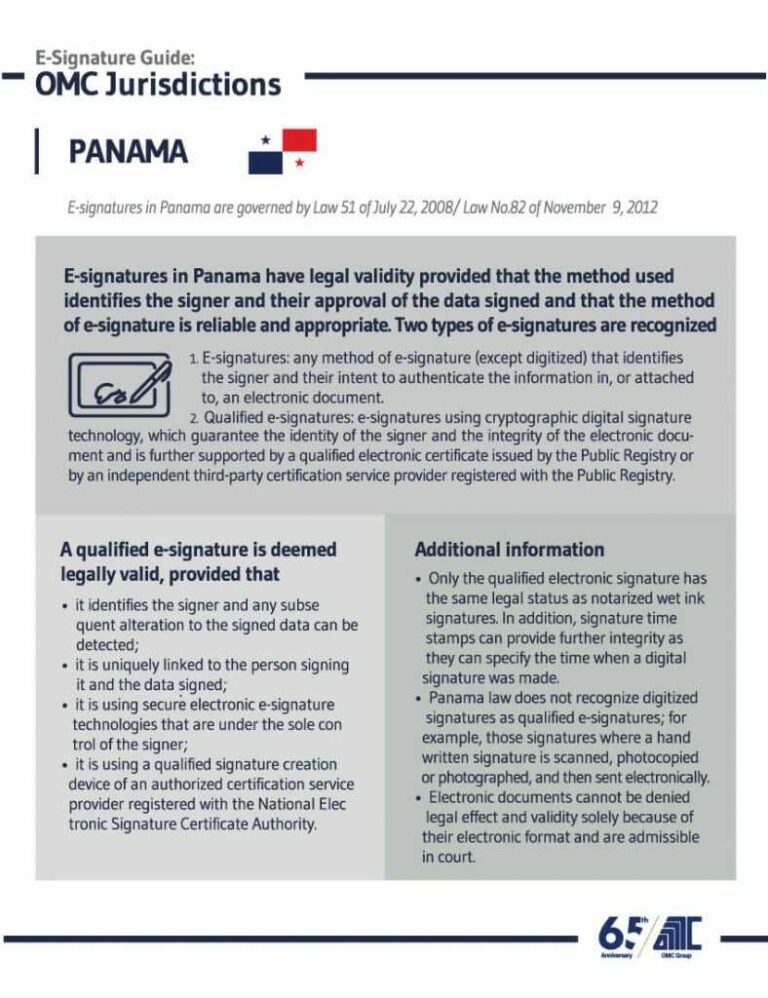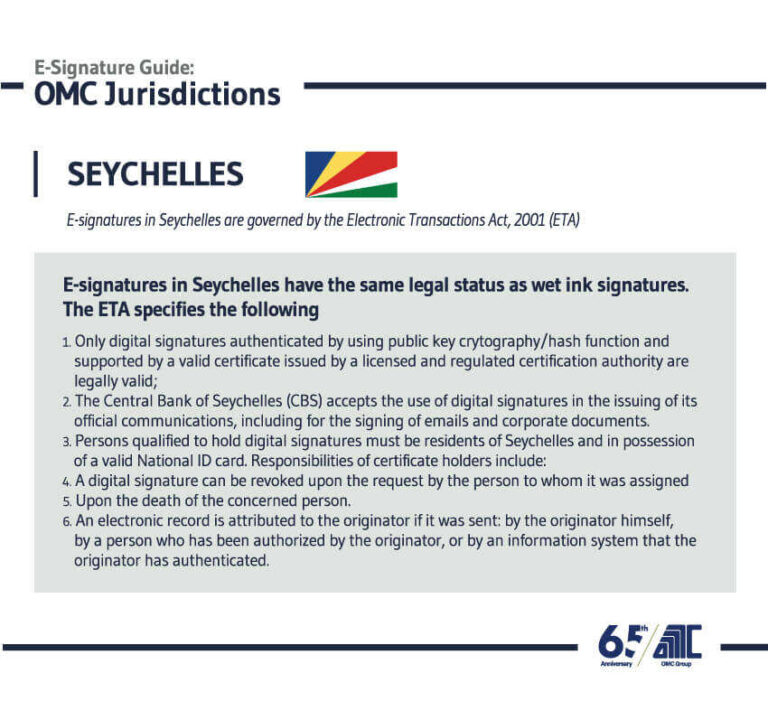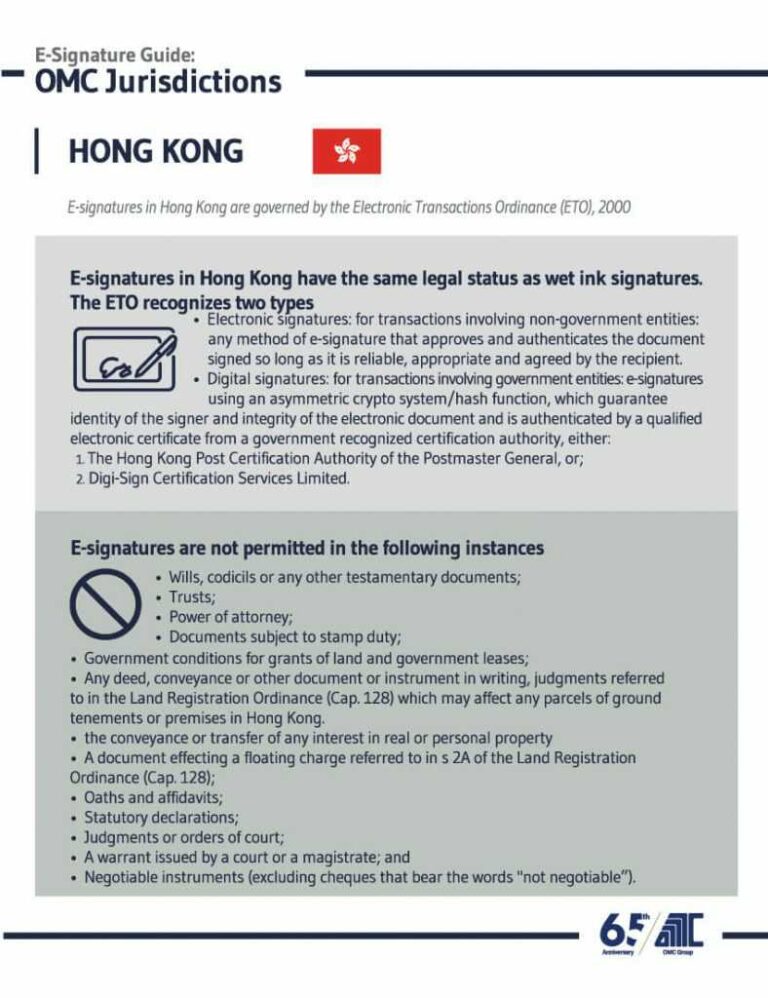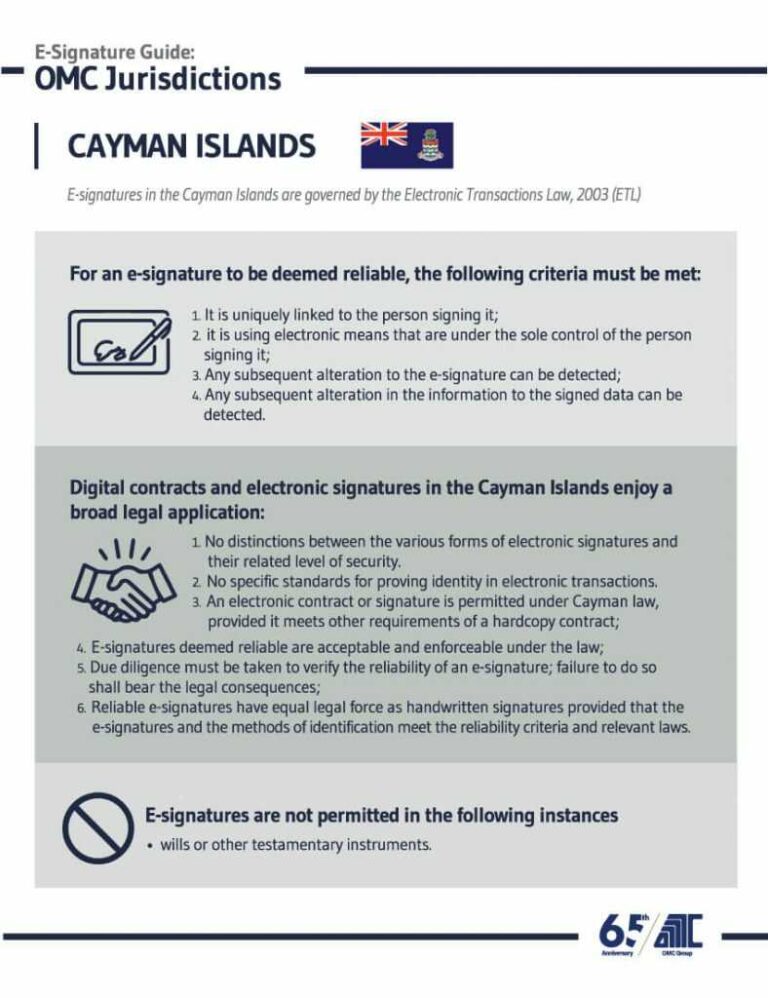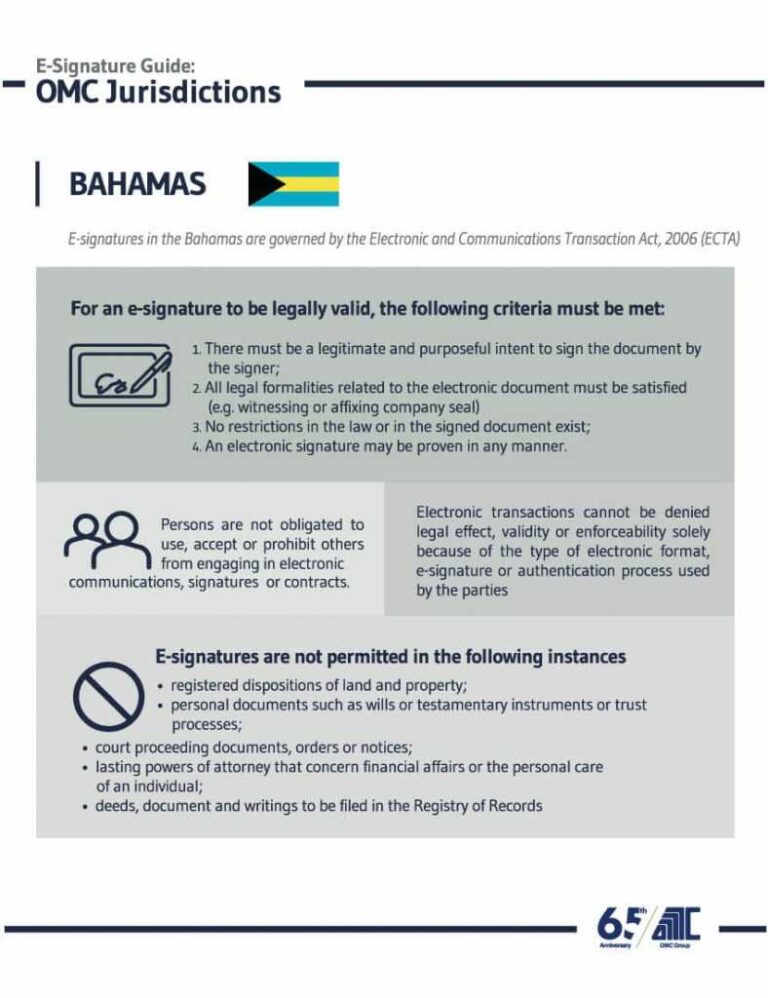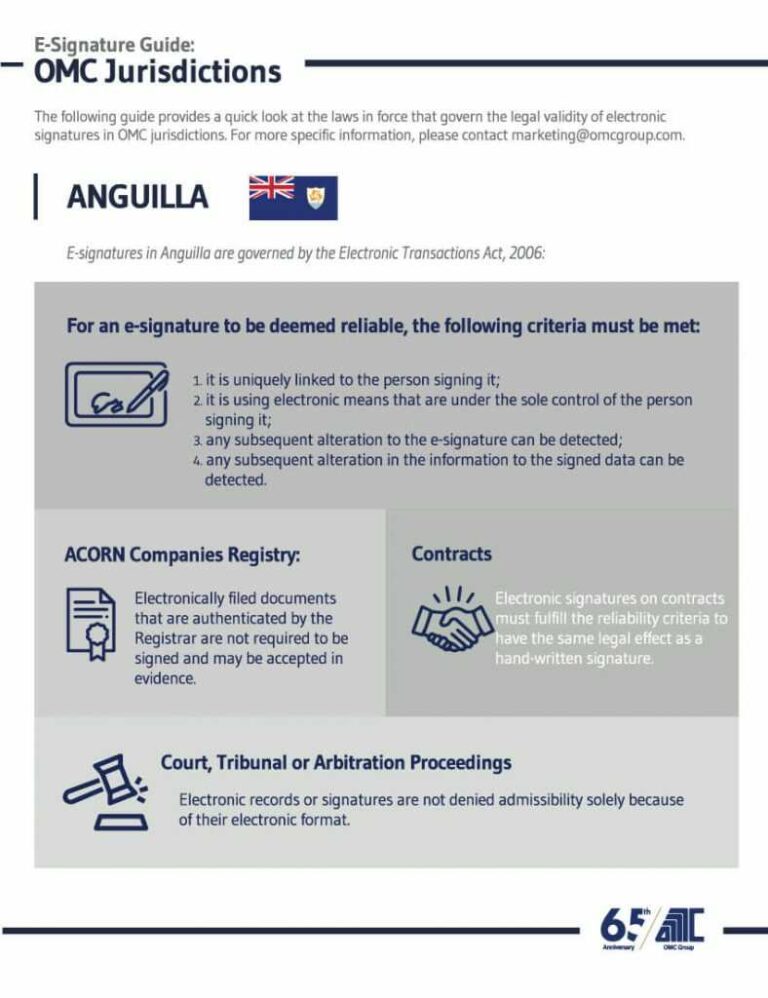 FAQ
What are electronic signatures?

E-signatures are the electronic versions of your handwritten signature and take many forms, including sounds, symbols, characters, or processes that are either within, attached, or associated with an electronic document.
How do e-signatures work?

To express consent remotely from any device (tablet, mobile, computer), the signer can execute their signature by a click of the mouse or texting "I agree", typing their name on a signature line, entering a code on a touchpad, scrolling a signature with a finger or electronic pen, or using third-party secure e-signing platforms. Depending on their level of security, e-signatures are accepted as a legally approved equivalent of a handwritten or wet ink signature in many countries.
Are electronic signatures and digital signatures the same?

No. An electronic signature is an umbrella term that covers many types of e-signatures that are used in place of signing on paper and identifies the person's intent to authenticate the information.
Digital signatures, on the other hand, are particular encryption e-signature technologies (based on Public Key Infrastructure standards) used to identify and authenticate the person signing a document as the holder of the private key used to create the digital signature.
The digital signature should not be mistaken for a digitized signature, which is a scanned image of a handwritten signature sent by email or signing through a signature pad. Unlike the digital signature, this does not offer a high level of security.
What is the difference between standard, advanced, and qualified electronic signatures?

Some jurisdictions specify which kind of e-signature model is legally valid and, depending on the level of security, may take the place of a wet ink signature.
A standard electronic signature is a basic email authentication, for example, clicking on an "I agree" box. The advanced electronic signature uses additional digital signature technology that is uniquely linked and capable of identifying the person signing the document, using means that are only controlled by the signer and can determine if a signature or document has been altered after signing.
The qualified electronic signature is the most rigorous advanced electronic digital signature. It requires a third-party authentication process and a certificate issued by a recognized certification authority that meets specific technical requirements set out by law.
What types of documents are generally exempt from using e-signatures?

Generally, but not in all jurisdictions, electronic documents that require additional identification, notarization, or witnesses cannot be digitally signed, these include wills, personal power of attorney, sworn statements, and negotiable instruments. etc.
The information in this FAQ is for general information purposes only and is not intended to serve as legal advice. Please contact OMC if you have specific legal questions regarding electronic signatures and how they work across international borders.
If you are interested in reading more about us, access our blog. Also, we invite you to read these other articles on our blog:
Benefits of private wealth family planning and management
Choosing an advisor for wealth management
The importance of family offices for wealth management
5 Best practices to safeguard your legacy
5 Emerging industries worth investing in
BVI | Economic substance legislation
BVI | Economic substance frequent questions (FAQ)
The family deed….a starring role
4 Aspects of how to protect your family assets and loved ones against unforeseen events
Panama | New legislation on accounting records
Panama | New and important legislative initiatives
We invite you to subscribe to our Youtube channel, where you can find videos on topics of interest in corporate and fiduciary matters, among others.